St. Louis Cardinals and Kansas City Royals Install Solar Panels to Home Stadiums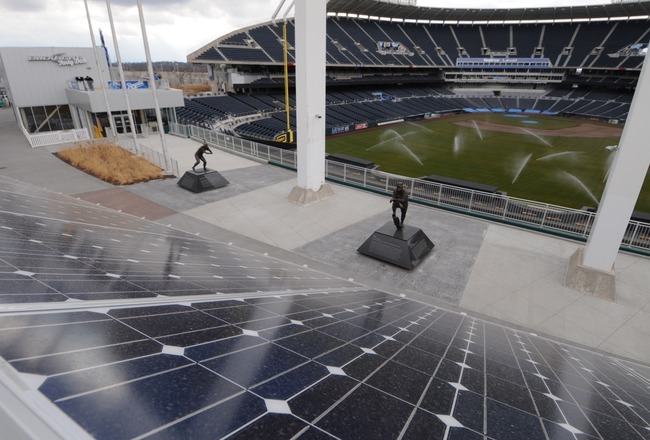 Two Missouri Major League Baseball (MLB) teams are jumping on the green bandwagon.
Both the St. Louis Cardinals and Kansas City Royals recently implemented renewable energy projects at their home stadiums, installing solar panels onto portions of the facilities prior to the 2012 season opening games. The two teams currently join five other MLB teams in incorporating solar energy at their stadiums.
At Busch Stadium in St. Louis, the Cardinals, with the help of St. Louis-based Microgrid Energy, installed 106 solar panels onto the roof of the concession area and ticket building in the Ford Family Plaza. The new panels have the potential of producing up to 32,000 kWh of energy per year.
At Kauffman Stadium in Kansas City, the Royals partnered with local electric utility KCP&L to install 120 solar panels onto the roof of Kauffman Stadium's Outfield Experience canopy, having the potential of producing 36,000 kWh of energy per year. A kiosk educating fans about the importance and benefits of solar energy is currently available in the Outfield Experience, providing more information about the stadium's use of green material.
Together, the new panels on both stadiums can produce enough energy to cook more than eight million hot dogs!
According to both teams, the solar projects were implemented and installed in hopes of reducing energy costs while raising awareness about the benefits of renewable energy nationwide.
Share This Post
Join the Conversation!
Like us on Facebook or follow us on Twitter to keep up to date with our weekly blog posts.